Video is released showing Sam Waisbren elevator death at Manhattan Promenade Towers in Kipps Bay as building resident is crushed as questions are asked whether tragedy could've been prevented.
Graphic video has been released revealing the moment a 30 year old Manhattan man being crushed to death by a 'malfunctioning elevator ' at a Kipps Bay luxury high rise as his horrified neighbors looked on in the lobby foyer.
Samuel Charles Waisbren, 30, could be seen desperately 'clawing' to escape as the packed lift he was on, plunged from the lobby into the darkness of the shaft below, only for the building resident to be crushed between the elevator car and the shaft wall, according to officials.
Sam Waisbren was one of six people who were inside the elevator trying to get out when it suddenly jerked upon arriving at the lobby floor- with the man sticking his arm out in a bid to keep the elevator door open,  attempting to leap out – only to be upended by the malfunctioning device.
'The guy literally was trying to climb out onto the floor while the elevator was still [moving down],' said a building worker, who witnessed the death told via the nypost. 'It's awful.'
Firefighters raced to rescue the five people who remained trapped and traumatized inside the cramped metal cage. First responders pronounced Waisbren dead at the scene according to reports.
Manhattan Promenade resident crushed to death had only recently moved to building:
The incident according to reports occurred at the 23-story Manhattan Promenade tower on Third Avenue near East 25th Street just after 8:15 a.m – with residents saying the building elevator had been acting up for months leading up to Thursday's tragedy.
According to the victim's father, Sam had moved from their family home outside Milwaukee to settle down in NYC, where worked in software sales at CB Insights.
'He was a wonderful young man,' Charles Waisbren told via WISN 12 News. 'He had millions of friends out in New York. He was loved by everybody.'
'You know, I'm heartbroken. He's not going to be able to father a child and have a family and grow up with, you know? We're absolutely devastated,' the father added.
'We are absolutely devastated.'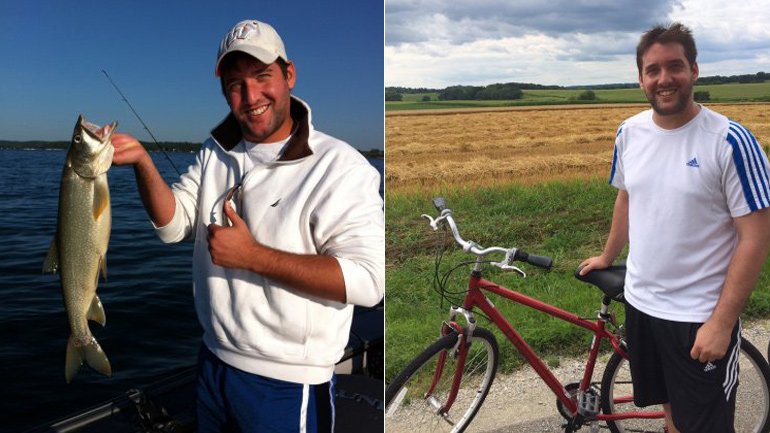 Pictured, Sam Waisbren, Manhattan Promenade building resident crushed to death.
Manhattan Promenade: History of human errors.
The incident has since led to finger pointing, with building residents saying that the elevator had been taken out of service Wednesday night because it kept getting stuck. Seething residents demanded to know how the 'malfunctioning elevator' was allowed to be put back into service.
While the city's Department of Buildings said the elevator hadn't been the subject of any formal complaints over the past decade, officials said the building's other lift had been shut down over safety issues months ago.
'Door zone restrictor has been tampered with,' reads a public report on that violation, formally inspected on May 29. 'This is a safety device to ensure elevator passengers' safety.'
The DOB issued a cease-use order after the inspection, but the building's management company, ATA Enterprises, satisfied city inspectors and got the order lifted by May 31.
Meanwhile a veteran elevator-safety expert said Thursday's tragedy also smacked of human error.
Kevin Doherty, a Rockland County-based consultant who viewed the video several times on Thursday and has testified in hundreds of elevator-accident cases, said similar incidents he has investigated involved 'somebody manipulating the elevator safety circuit in the elevator machine room' to troubleshoot the elevator.
'Elevator controllers/computers are designed to prevent motion of the elevator when either the inside car door or the outside hoistway door is in the open position,' Doherty told the nypost.
'In order for this event to occur, you would have to have a number of mechanical and electrical failures occur simultaneously, barring human intervention.'
The odds of that happening are 'almost incalculable,' he said.
Residents had become used to 'glitchy elevator'
Residents said they had grown used to the balky elevators at the Manhattan Promenade, where monthly rent for a one-bedroom start at $3,695, according to StreetEasy.com.
Said building resident, Dayna Sargen, 39: 'It's sadly not shocking and sad that it wasn't addressed sooner. A life could have been saved. It shouldn't have to take someone dying to have a management company realize there's an issue with our elevators.'
Waisbren's father agreed.
'The elevator was always in disarray, and they're paying a gazillion dollars in rent every month,' he said. '[The] least the building could do is provide safety.'
The New York City Department of Buildings said it was investigating the incident.
Told a DOB release on Thursday: 'DOB is investigating this incident aggressively and will take all appropriate enforcement actions. Elevators are the safest form of travel in New York, due to the city's stringent inspection and safety requirements. We're determined to find out what went wrong at this building and seek ways to prevent incidents like this in the future," the department said in a statement.'