It seems like everytime celebrity arrives at an airport anywhere in the world, they have bombarded with paparazzi snapping pictures of them. This has led to a lot of photos of interesting celebrity travel fashions, some of which make sense, and some of which just look uncomfortable. Certain celebrities know how to travel while looking stylish and comfy. Here is a round-up of the comfiest and most stylish celebrity travel outfits.
Anyone who has worn yoga pants, a sweatshirt, and well-worn pair of sneakers knows just how comfortable this look is. Many celebrities opt to dress down, rather than look like they are on their way to a photoshoot. Model Ashley Graham, always looks stunning in a pair of her favorite yoga pants, and a matching sweatshirt when she travels. The key to making this comfy look stylish, is making sure that your hair is done, and you have some natural-looking makeup on. If you want to make it even more stylish, then a matching two-piece workout look is the way to go.
The Tracksuit
You might think this falls under athleisure wear, but it really is a category of its own. Adidas tracksuits have always been in fashion in eastern Europe, but now they are making a comeback. Other well-known brands like Champion and Nike have been making tracksuits for decades. A standard black tracksuit is no longer the norm, tracksuit bottoms can be mixed and matched with sweatshirts, or other track tops to create a unique 2020 look. Tie dye has become increasingly popular this year, and now tracksuits can be found with some vibrant splashes of color on them. Also, how comfy is a baggy tracksuit to sit in for long hours? It may even be more comfortable than a pair of stretchy yoga pants.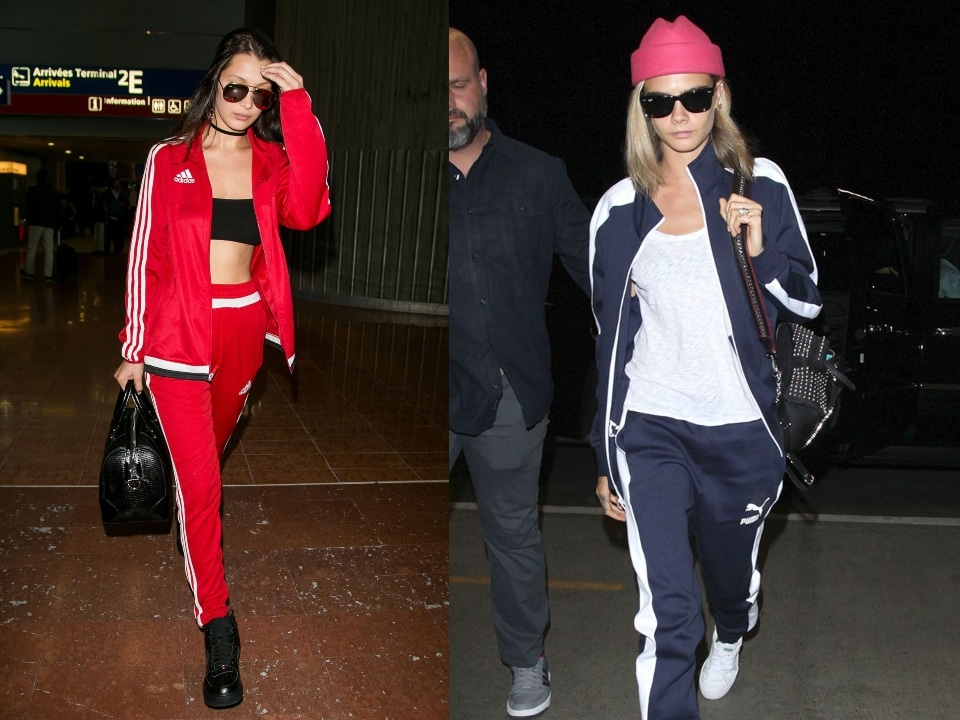 A Blazer And Jeans
For shorter flights, wearing a tailored blazer and a pair of jeans with some stretch in them can be quite comfortable. Blazers are definitely the dressiest item of clothing on this list, but when paired with jeans and some flats or sneakers create a more dressed down look. Many celebrities like model Rosie Huntington-Whiteley can be seen wearing this effortlessly chic look while flying.
One thing to remember when flying is that layering is always a good idea for any flight. You can never know if you are going to be too hot or too cold. Always pack a sweater of a sweatshirt in your carry-on to make sure that you are as comfortable as possible on your flight. Whether it is a ten hour transatlantic flight, or a flight across the country, you can never be too comfortable. Maybe you will see a celebrity wearing one of these styles the next time you fly.