It's important to motivate children and show them the power of positivity and affirmation.
Parents, teachers, and other guardians know that encouraging kids and giving them a reason to put effort into their futures is a great way to help them grow and develop well.
Self-esteem is, after all, crucial to one's well being and growth.
But it's not just teachers and family members who can make a difference in a young child's day, as Stacey Truman proves.
Stacey has been working at the cafeteria of the Kingston Elementary School in Virginia for nine years.
She's seen many students go from tiny tots to teenagers, and she's watched many leave to go on to their next level of school.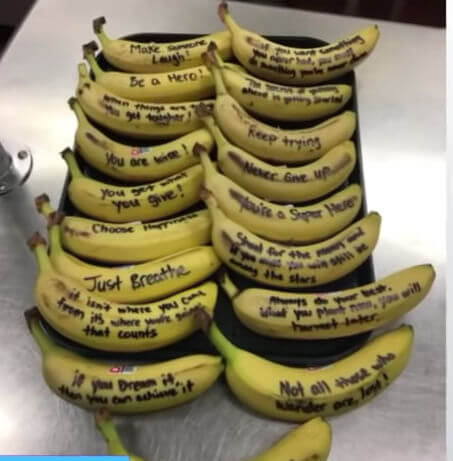 Like many school workers, Stacey has developed a maternal love for the children she works with.
That's why, a short while ago, she began going the extra mile to do something sweet for them – and that little something came in the form of the now widely popular and much-loved Talking Bananas.
At home, Stacey takes a permanent marker and scribbles notes on the banana peels of her own little ones every day to put into their lunchboxes.
These notes would be a word or two of something kind and motivational to help encourage them during their daily school activities.
Seeing as the kids she works with are like her secondary children, she decided to bring this simple yet thoughtful habit with her to the workplace.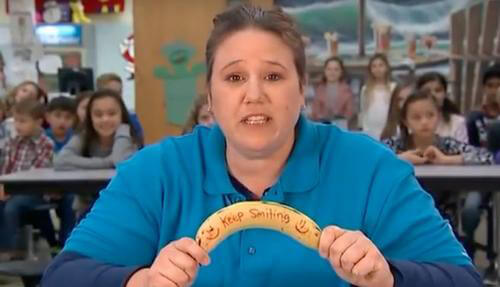 So, one fine day, she just started bringing the markers and writing on the school bananas. Students absolutely loved the novelty and sweetness of it all.
Her messages include words like "smile" or phrases like "you can do it", so every banana comes with a handwritten note that makes someone smile.
Students loved hurrying into the cafeteria every day to grab a Talking Banana for themselves!
It wasn't long before word was spreading about Stacey's Talking Bananas.
Soon, it wasn't just students who knew about them – it was teachers, administrators, and even parents, too!
When the principal found out about the special snacks, she went down to the cafeteria on a surprise visit of sorts.
She walked over to the line and picked up a banana. The words on it were "Be your best self".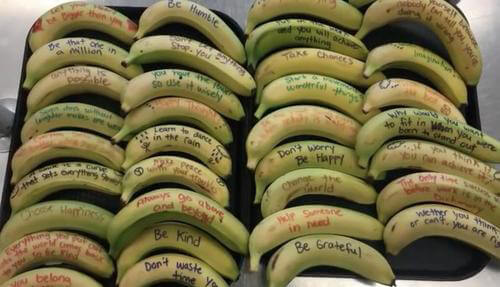 The principal snapped a photo of the banana and decided to share it online. She posted the photo, and the entire story behind it, on Twitter.
Within moments, it was spreading around the social media platform, with parents all retweeting and replying to commend Stacey's efforts and her sweet, heartfelt messages of love and advice.
Till today, Stacey continues to inspire children daily with her warm, positive notes on their bananas, which also encourages them to eat more fruit – an unintended, but definitely welcome side effect!
We often undermine the power of words. "Actions speak louder", we say – but that doesn't mean words aren't important.
Children need motivation, positivity, and education, and they receive that best when they have good self-esteem, are confident about the future, and are determined to succeed.